Barry Whitewater
Multiple Dates & Times
Get Tickets
Details
Comments
Event Description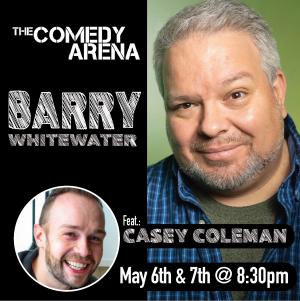 Barry is a suburban dad from Dallas, Texas. A married, father of two children, who say they love him, but act quite the opposite. Want to know what insight a middle aged father of two can bring today's world, he's got it. Born just North of the border (uh, Oklahoma, not Canada) he'll compare and contrast both. Barry has worked with comedians Nate Bargatze, Gilbert Gottfried, Jon Lovitz and Tom Arnold. He's headlined at the State Fair of Texas and the Plano Comedy Festival. He's featured at Hyena's, The Improv, Loony Bin and other comedy clubs as well as The Star owned by the Dallas Cowboys.
THE COMEDY ARENA'S  Main Stage is located on the second floor, on the northwest corner of Hwy 5 and Virginia St.  The main entrance is on the first floor, on Virginia St. There is an elevator at the rear of the building as well as a staircase both inside and outside of the building.
ENTERING & SEATING
All seating is based on size of party and when guests arrive at the show.

ALL SALES ARE FINAL
No refunds or exchanges offered after the show. Please make sure you purchase tickets for the correct date and time. You may be able to have your tickets moved to a future event if you notify the box office 24 hours before the start of the show to which you have tickets.
2 Item (Food or Beverage) Minimum Per Person Once Seated; Food and Beverage service ends approx. 45 minutes into the show.
Join the Conversation
Follow the event with #thecomedyarena