Bandit Big Rig Series - Bristol, TN
Sat. Oct 12, 2019 11:00am - 8:00pm EDT
Get Tickets
Details
Comments
Event Description
Sit Like a Bandit - Watch the Iron Giants take on the Last Great Coliseum from the Infield. Exclusive tickets are available. See who takes home the 2019 Championship right from the infield at Bristol Motor Speedway. History is being made live Oct. 12th!
**Camping Information Below**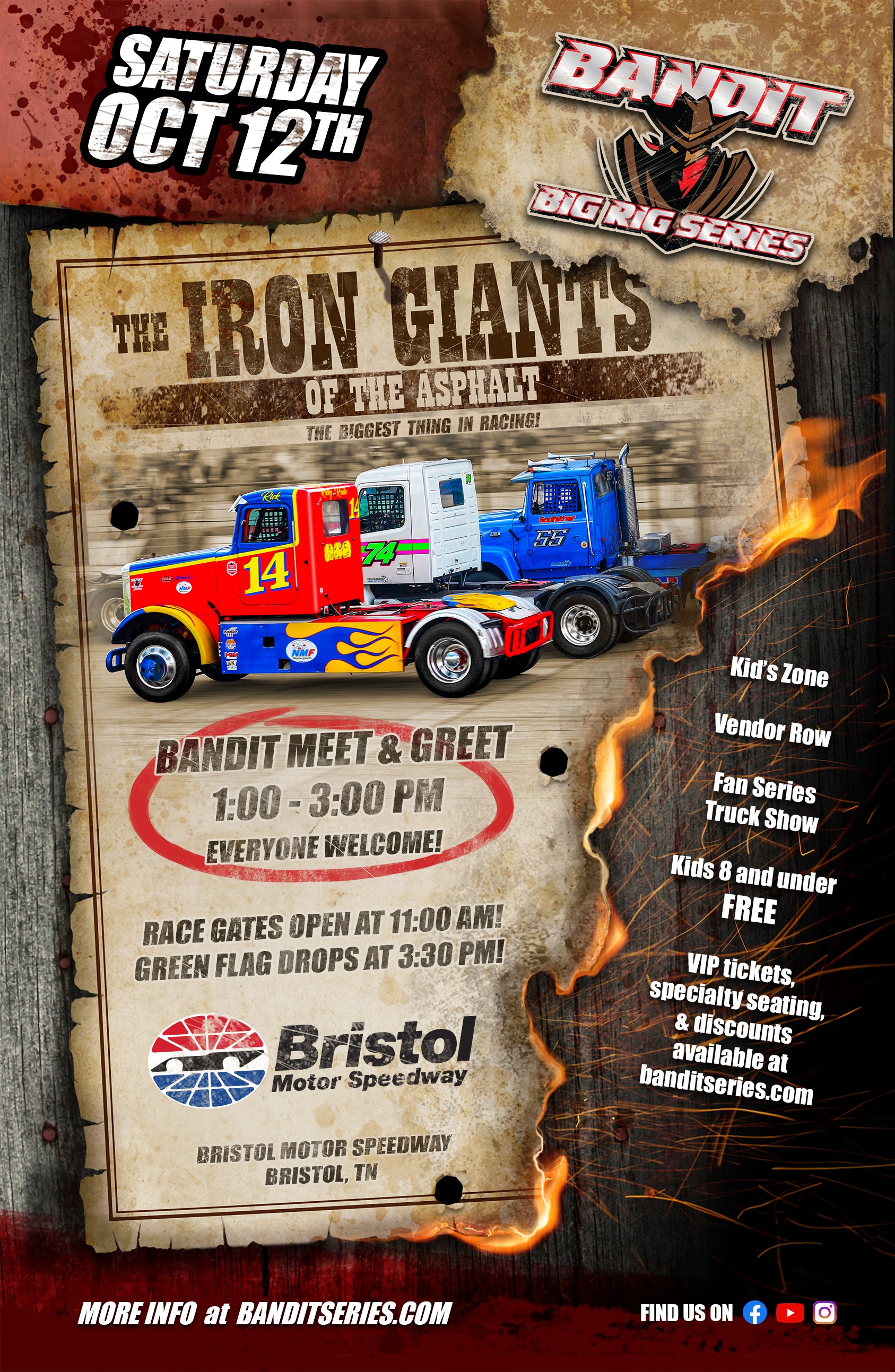 The Bandit Big Rig Series is coming to Bristol Motor Speedway, It's Bristol Baby! Saturday, October 12th, with Bandits racing around the oval track at speeds of up to 100 MPH, you know things are going to get crazy! Racing starts at 3:30 PM but don't miss out on the pre-race activities (i.e. Fan Series Truck Show - all day, 1:00 PM-3 PM Driver Meet'n'Greet, and so much more). As a reminder, kids 8 and under go FREE with paid adult (limit 3 kids per paid adult ticket).
Here are the details about Big Rig Camping:
CAMPING INFO: Driver RV Lot for Bandit Big Rigs


Gated campground right beside garage entrance


Sites are sized 16' x 45'


Electric-only (50amp), will need an adapter for 30amp


Water-fill and dump station available


$125 per site




Covers stay from Friday, October 11th at 3 pm through Sunday, October 13th at Noon.







To reserve camping contact:


Daniel Warren


Events Manager – Camping


Bristol Motor Speedway | Dragway


151 Speedway Blvd. | Bristol, TN 37620


Direct: 423-989-6944 | Ticket Office: 866-415-4158


Join the Conversation
Follow the event with #banditbigrig