ANTIBALAS w/ The True Loves and Popgoji
Sat. Feb 22, 2020 at 8:00pm PST
Event Description
2020 Biamp PDX Jazz Festival and Soul'd Out present
ANTIBALAS
with The True Loves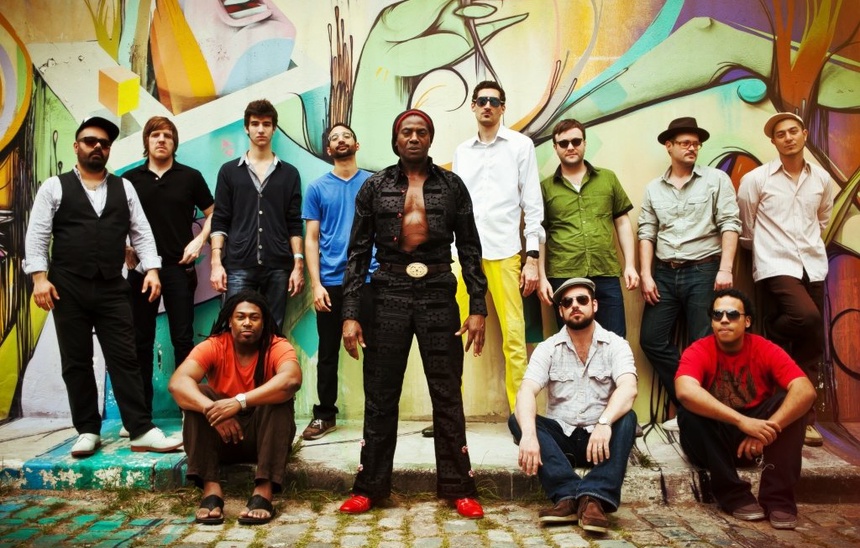 Formed in Brooklyn, the musical collective known as Antibalas' new studio album, Where The Gods Are In Peace, is an epic Afro-Western Trilogy searching for solace from American political opportunism, greed and vengeance. Through its battle cry of resistance against exploitation and displacement, Antibalas' long-form compositions investigate oppression in 1800s America that eerily mirror the current state of the country. Three explosive original arrangements cultivate an urgent call to heal a broken system. Ultimately, the sonic excursion lands on an island where love is our first instinct. A new ideology is born opening our hearts to the possibilities of living as one unified people, where all gods are equal and together we prevail.
True to traditional form, Where The Gods Are In Peace pays respect to the forefathers of Afrobeat with compositions spanning nine to 15 minutes in length. With a blessing from the Fela Kuti legacy early in the band's career, Antibalas has long been revered for re-popularizing the classic Afrobeat sound while adding their distinct New York City grit to the mix. Influences of punk rock, free jazz, and hip-hop seep into their expansive works to define a truly 21st century translation of the Afrobeat genre and beyond.
Antibalas is a force of nature celebrated by both music connoisseurs and a wide array of renowned artists alike. Antibalas has served as the backing band for high profile tribute shows at Carnegie Hall, including Music of Paul Simon (2014), Music of David Byrne & Talk Heads (2015), and Music of Aretha Franklin (2017). Antibalas members have also appeared alongside some of today's biggest stars, such as Beyonce, The Roots, Taylor Swift, Bruno Mars, Angelique Kidjo, Zap Mama, Femi Kuti, Seun Kuti, Tony Allen, Davido, Arcade Fire, Lady Antebellum, and many others. In 2012, Antibalas made their late night television debut on Late Night with Jimmy Fallon, and have appeared on Jimmy Kimmel Live!
**PDX Jazz members must enter the exclusive members-only code when purchasing tickets to receive discounted pricing. For all General Admission seated shows, premier seating will be reserved for members only up to the show start time. Please bring your membership card to all shows.**
The True Loves
Listening to the abundant sounds of the Seattle-based funk & soul group, The True Loves, is like walking down a favorite neighborhood street, slapping-five with friends, checking up with clerks in their stores, admiring your own dark sun-glassed face in their windows, ducking under flowerpots and smelling the familiar smells of your most cherished locale. The band is its own block party.
What began in 2014 as a jam session between three of the city's best - pocket-perfect drummer David McGraw, intoxicating bassist Bryant Moore and otherworldly guitarist Jimmy James - has since blossomed into a global force that now features percussionist Iván Galvez and four horn players: trombonists Jason Cressey and Greg Kramer and saxophonists Gordon Brown and Skerik. Together, the group's live performances have garnered them much local acclaim and millions of streams on YouTube.
In 2017, the True Loves recorded their debut instrumental LP, Famous Last Words, which received citywide adoration and earned them spots at coveted festivals like Sasquatch, Doe Bay, and Upstream. In 2018, the group released the "Dapper Derp/Kabuki" 45" on WeCoast Records and in 2019 the famed Colemine Records released the "Famous Last Words/Mary Pop Poppins" 45." And while the band nourishes audiences all over the country - from its start with former singer Grace Love to their current eight-piece lineup - there's still plenty to go around.
Join the Conversation
Follow the event with #stage722pdx
View Everyone
Who's Going?

Alison M

Elizabeth M

Kyla P

Elizabeth B

Margaret M