Amos Garrett's Modern Blues Quartet
Multiple Dates & Times
Event Description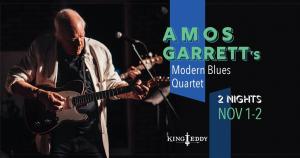 Canadian blues guitar legend Amos Garrett returns to the King Eddy with his new modern blues project.

About The Amos Garrett Blues Quartet:
One year ago, Amos decided to retire his original band, The Eh, Team. After 33 years of recording, touring Canada, Europe, Japan and brief forays into the USA, the passing of two members and a couple of personnel changes, it was time to put it to bed. In it's wake and from the ashes has risen a new and even mightier Amos band, featuring Julian Kerr, Brian Pollock and Kelly Kruse.

Revered as one of the top guitar players in the world, Amos Garrett brings his one of a kind sound and his new band to the Calgary Bluesfest MainStage. Detroit native Garrett began working as a professional guitarist north of the border in Toronto. There he played with the Dirty Shames, a folk jug band, before moving on to the country-rock-oriented Great Speckled Bird at the invitation of Ian and Sylvia. Perhaps best known for his inspired and jaw-dropping work on Maria Muldaur's "Midnight at the Oasis", Amos went on to play on many classic albums for Jesse Winchester, Anne Murray, Stevie Wonder, Emmylou Harris, and Paul Butterfield.

About Julian Kerr:
Julian is a multi instrumentalist who has played with The Original Caste, Bo Diddley, Ian Tyson, Gaye Delorme and many other giants throughout his career. A veteran studio musician on all keyboards, guitar, and bass, he continues to work as an arranger and producer. His favorite projects now are his collaborations with Amos.

About Brian Pollock:
Bass. Born—Melville, Sk. Grew up in Red Deer, AB. Lives in Calgary. Turned pro at age 16. Studied music at Grant Macewan University '81-'83. One of Canada's great electric bassists, he has toured or recorded with Amos, Maria Muldaur, Big Miller, Doug Sahm, Valdy, Jeff Healey, David Lindley, David Vest and many more.

About Kelly Kruse:
Kelly grew up in Swan Hills in far northern Alberta. He started playing drums at age 12 and was playing professionally by 14. Moving to Vancouver Island soon after that, he took master level classes with bassist Ray Brown and drummer Jeff Hamilton. Eventually returning to Alberta (Calgary), he played with top blues artists Doug Riley, David Vest, Brent Parkin, Jack DeKyser and now, The Amos Garrett Modern Blues Quartet.

Show Disclaimer:
This is the earlier of multiple shows we're presenting on this date. The next show is scheduled to begin at 10:15 pm. When this show is over, we ask that you please make room for fellow ticket-holding live music lovers. Tickets for the second show can be purchased online or at the door (subject to availability).

Seating Disclaimer:
To accommodate as many live music fans as possible, we offer both seats and standing room at our shows. Seats are first come, first serve. We recommend arriving early if you'd like to be seated during the performance.

Sound production equipment for the King Eddy is provided by PK Sound and Yamaha.