All We Can Save: Women at the Forefront of Climate Justice
Tue. Oct 13, 2020 8:00pm - 9:00pm EDT
Event Description
Scientists, activists, journalists, and artists summon truth, courage, and solutions for the climate crisis.
Featuring


Camille Dungy, poet, author, and scholar


Rhiana Gunn-Wright, Director of Climate Policy, Roosevelt Institute


Ayana Elizabeth Johnson, founder, Urban Ocean Lab and founder/CEO, Ocean Collectiv


Sarah Stillman, New Yorker staff writer and Director of the Global Migration Project, Columbia Journalism School


Jane Zelikova, Chief Scientist, Carbon 180 and co-founder, 500 Women Scientists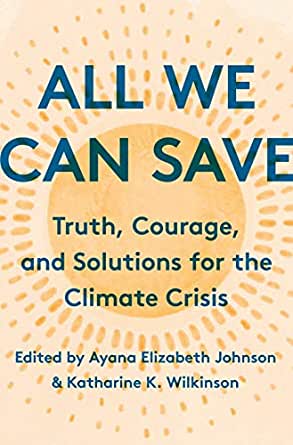 "The climate crisis is not gender neutral," write Ayana Elizabeth Johnson and Katharine K. Wilkinson, editors of the new collection All We Can Save: Truth, Courage and Solutions for the Climate Crisis. "The list of harmful impacts caused by our rapidly changing climate goes long and it goes wide, especially for girls and women of color, those in the Global South, and those who are rural or indigenous. In very real ways, the climate crisis thwarts the rights and opportunities of women and girls, as well as nonbinary people. These realities make gender-responsive strategies for climate resilience and adaptation critical."

Intermixing essays with poetry and art, All We Can Save illuminates the expertise and insights of dozens of diverse women leading on climate in the United States—scientists, journalists, farmers, lawyers, teachers, activists, innovators, wonks, and designers across generations, geographies, and race—with the aim of advancing a more representative, nuanced, and solution-oriented public conversation on the climate crisis.

Ayana Elizabeth Johnson will speak with the book's contributors, alongside featured readings from a small selection of the collection's poetry.

LIVE from NYPL is made possible by the support of Library patrons and friends, as well as by the continuing generosity of Celeste Bartos, Mahnaz Ispahani Bartos and Adam Bartos, and the Margaret and Herman Sokol Public Education Endowment Fund.

ABOUT THE SPEAKERS

Camille Dungy is a poet, scholar, essayist, and the author of four collections of poetry, most recently Trophic Cascade, winner of the Colorado Book Award. She was awarded a Guggenheim Fellowship in 2019.
Fort Collins, CO | Instagram | Website


Ayana Elizabeth Johnson is a marine biologist, policy expert, writer, and Brooklyn native. She is founder and CEO of Ocean Collectiv, a consulting firm for conservation solutions grounded in social justice, and founder of Urban Ocean Lab, a think tank for the future of coastal cities.
Brooklyn, NY | Twitter | Instagram | Website


Rhiana Gunn-Wright is a policy expert and Chicago native who helped to develop the Green New Deal. She is the director of climate policy at the Roosevelt Institute and a 2013 Rhodes Scholar.
Chicago, IL & Washington, DC | pet parent | libra | nerd | Twitter | Instagram | Website


Sarah Stillman is a staff writer for The New Yorker and launched the Global Migration Project at Columbia Journalism School. She teaches writing at Yale University and is a MacArthur Fellow.
Brooklyn, NY | investigative poet | obsessive reader | meditator | Twitter | Website


Jane Zelikova, PhD, is an ecologist working at the intersection of climate change science, policy, and communication. She is the chief scientist at Carbon 180 and the cofounder of 500 Women Scientists.
Atlanta, GA & Boulder, CO | optimist | dancer | activist | Twitter | Instagram | Website


GET THE BOOK
If you have a NYPL library card—or live in New York state and want to apply for one now—you can borrow All We Can Save for free with our e-reader app SimplyE, available for iOS and Android devices. The title is also available in accessible formats for community members who do not use standard print. Find out more at: nypl.org/talkingbooks.

Readers everywhere who wish to purchase copies of All We Can Save can do so at The New York Public Library Shop. Proceeds benefit The New York Public Library. Plus, receive a free 125th Anniversary tote bag with your purchase!

This program will be streamed on Zoom and simulcast to YouTube. You must register with your email address in order to receive the link to participate. Please check your email shortly before the discussion to receive the link. Captions for this event will be provided.
---
Please send all press inquiries (photo, video, interviews, audio-recording, etc.) at least 24-hours before the day of the program to Sara Beth Joren at sarabethjoren@nypl.org.
For all other questions and inquiries, please contact publicprograms@nypl.org.
---
PUBLIC NOTICE AND DISCLAIMER
This Program uses a third-party website link. By clicking on the third-party website link, you will leave NYPL's website and enter a website not operated by NYPL. We encourage you to review the privacy policies of every third-party website or service that you visit or use, including those third parties with whom you interact with through our Library services. For more information about these third-party links, please see the section of NYPL's Privacy Policy describing "Third-Party Library Services Providers" at https://www.nypl.org/help/about-nypl/legal-notices/privacy-policy.
During this Program, you will be using third-party platforms such as Zoom and YouTube, for the purpose of communication. This service may collect some personally identifying information about you, such as name, username, email address, & password. This service will treat the information it collects about you pursuant to its own privacy policy, which can be found here: Google Privacy Policy, Zoom Privacy Policy, YouTube Privacy Policy.
---