Alison Greenberg, Maybe Once, Maybe Twice: A Novel
Thu. Nov 2, 2023 at 7:30pm EDT
$18.00 - $22.00
18 and Over
Event Stats
$18.00 - $22.00
18 and Over
Event Description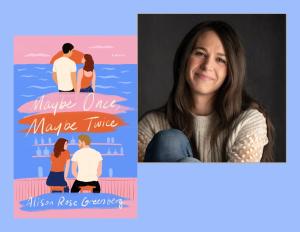 A 2023 GOOD MORNING AMERICA BUZZ PICK!
The 32nd Edition of the Book Festival of the MJCCA Presents Alison Greenberg, Maybe Once, Maybe Twice: A Novel

In Conversation with Emma Gray, MSNBC Columnist, Author, and Webby-Nominated Podcaster
Author Talk, Q & A & Book Signing
Dessert reception to follow!
PRESENTED BY DISCOVER DUNWOODY
Filled with the romance and angst that defines the years you come to know yourself, and told over the span of two decades, Maybe Once, Maybe Twice is a novel of second chances and finding your own way.
Maggie Vine's life is going extra-medium. At 35, she's pursuing her dreams of being a singer and possibly being a mother—though neither are successfully panning out. So when Garett Scholl—stifled hedge fund manager by day but electrifying aspiring rock singer by night—comes to her 35th birthday party with the intention to kiss Maggie senseless, it feels like one piece might click into place. Except he's engaged to someone else, and Maggie knows she won't fit into the cookie-cutter life he's building for himself.
Enter Asher Reyes. Her first boyfriend from summer camp, turned into heartthrob actor, he's lived a successful yet private life ever since he got famous. When a career-changing opportunity is presented to Maggie after her reconnection with Asher, it feels like everything—music, love, family—will fall into place. But her past won't let her move on without a fight.
ABOUT THE AUTHOR
Alison Rose Greenberg (she/her) is a screenwriter who lives in Atlanta but is quick to say she was born in New York City. While attending The University of Southern California, Alison took her first screenwriting class and fell head over heels. A journey from screenwriting led to marketing jobs, before coming full circle back to her first love. Alison speaks fluent rom-com, lives for 90's WB dramas, cries to Taylor Swift, and is a proud single mom to her two incredible kids and one poorly-trained dog.
ABOUT THE MODERATOR
Emma Gray is the co-host of the "Love To See It" podcast, MSNBC columnist, and author of "A Girls' Guide To Joining The Resistance." She co-authors the culture newsletter, Rich Text, and previously hosted the Webby-nominated podcast, "Here To Make Friends." Emma has appeared as an expert on the Today Show, Good Morning America, MSNBC, Entertainment Tonight, NPR, WNYC and WBUR. Her work, which focuses on gender, culture and politics, can also be found in HuffPost, Cosmopolitan, The Washington Post, NYLON and Teen Vogue.
Books will be available for purchase on the evening of the event from our partner bookseller, A Cappella Books!