Albert Lee with special guest Lightning Express
Mon. Jan 9, 2023 at 7:00pm EST
Event Description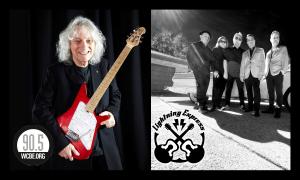 Natalie's is proud to announce the return of Guitar legend Albert Lee in concert with his outstanding band of veteran musicians, along with the outstanding Everly Brothers tribute band Lightning Express! Albert first came to prominence during a 1964-68 stint in British Blues and R & B bands, and his reputation grew and session work blossomed, including appearances on "The London Bo Diddley Sessions" for Chess and Jerry Lee Lewis' "The London Sessions". This and other work with U.S. based greats led to a permanent position in the Crickets, and by the time that ended, Albert had long since made Southern California his home, where he worked with Don Everly as well as on the debut album of Jackson Browne.
Lee joined Joe Cocker's band in the mid 70s, still doing constant studio and touring work, primarily in Emmylou Harris' Hot Band. 1978 led to a five-year adventure for Albert in Eric Clapton's band and his studio work in this period continued, including contributions to three albums by Rosanne Cash, work with Dave Edmunds, Rodney Crowell, Nanci Griffith, Carlene Carter, and countless others. When the Everly Brothers reunited at London's Royal Albert Hall, Albert was on hand as guitarist and Musical Director. He continued in that role for over 20 years until the Brothers retired. 
The magical harmonies and classic hits of Don and Phil Everly, The Everly Brothers, come to life again at every Lightning Express show. This 5-piece band features Jesse McNamara and Jon Wink (tight, two-part Everly harmonies and driving acoustic guitars), Ron Brzoska (note-perfect electric guitar licks), Dan Hange (classic, bouncy bass lines), and Dick Day (crisp drum rolls and fills). Lightning Express are not impersonators, but instead recreate the spirit, energy and feeling of a live Everly Brothers show.
Food & Bar: Our full food and drink menu will be available before and during the show.