Trace Bundy Live at The Sanctuary
Sat. Oct 2, 2021 at 8:00pm CDT
$15.00 - $125.00
All Ages
Get Tickets
Details
Comments
Event Stats
$15.00 - $125.00
All Ages
Event Description
The Guitar Sanctuary is proud to present a special evening with Trace Bundy and special guest Russ Hewitt on Saturday October 2nd at 8pm (doors open at 7) at The Sanctuary Music & Events Center.  
VIP Tables with seating for 4 directly in front of the stage are $125 per table (SEE Seating Chart Below).
Downstairs Seats (First come, First Serve) are $20.
Balcony Seats (First come, First Serve) are $15
We'll have food and bar service available from our friends at Rick's Chophouse.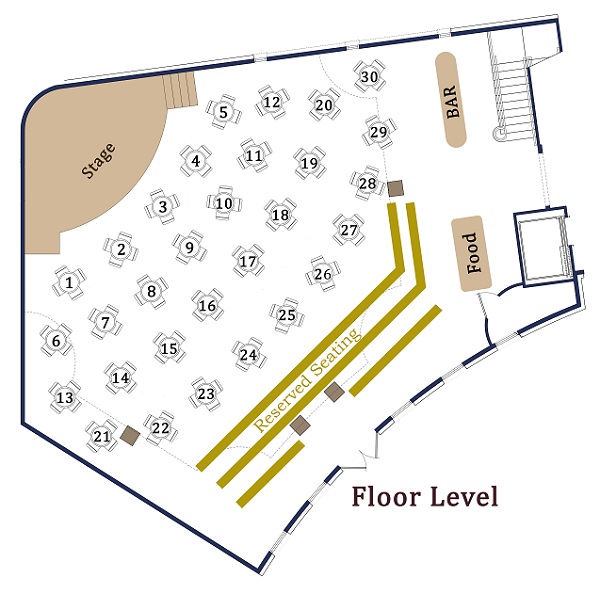 Internationally-acclaimed guitar virtuoso Trace Bundy must be seen, not just heard. His music is poetry in motion, using harmonics, looping, multiple capos, and his unique banter and stage presence to deliver an unforgettable live concert experience. Listening to his intricate arrangements is one thing, but seeing the fan-dubbed "Acoustic Ninja" play live confounds even the most accomplished music lovers as to how one person can do all that with just two hands and ten fingers.
Bundy's unique career has brought him across the world, with concerts in 28 countries and counting - from high-tech performance halls in South Korea and Italy, to remote villages in Zimbabwe and Guatemala. He has independently sold over 125,000 albums on his record label, Honest Ninja Music. His video clips circulate virally at astonishing speed, with over 40 million YouTube views to date.
Jimmy Leslie at Guitar Player Magazine blogs "It was easy to see why Bundy plays bigger venues on each tour. In his hands, the acoustic guitar is an imagination station, and there was no telling where he is going take the audience at any given turn. Thrilling stuff."
Audiocast Magazine from Austin, TX agrees: "Bundy's live show is without a doubt an event that needs to be witnessed rather than told about. With such a jaw-dropping performance, Bundy's live concert is a slap in the face that would leave a palm print on the memory of everyone in the audience.
Trace Bundy is an instrumental acoustic guitar player who lives and performs in Boulder, Colorado. He is known to fans as "The Acoustic Ninja" for his legato and finger tapping skills. His playing style features him playing with both hands on the fretboard, intricate finger picking arpeggios and inventive use of multiple capos. Trace has built up his career through success on websites such as YouTube and Facebook. Bundy was born in Austin, Minnesota and later moved to the small town of Buena Vista, Colorado.
Join the Conversation
Follow the event with #LIVEMusicMcKinney