SHTISEL
Wed. Mar 5, 2014 at 7:00pm EST
Get Tickets
Details
Comments
Event Description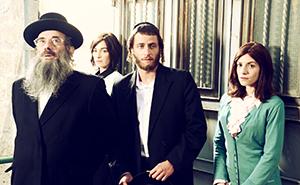 ADVANCED TICKETS HAVE SOLD OUT. A LIMITED NUMBER OF STANDBY TICKETS MAY BE AVAILABLE AT THE DOOR.
STANDBY LINES BEGIN FORMING 1 HOUR PRIOR TO SCREENING. Note: Availability of standby tickets is not guaranteed.

Dir. Alon Zingman (110min, Israel, 2013)
In Hebrew and Yiddish with English Subtitles
TV Narrative
US Premiere

The new Israeli hit TV series Shtisel – from the producers of the beloved series Srugim – focuses on a Haredi family living in Jerusalem.

Akiva and Shulem Shtisel, father and son, sit on a little balcony overlooking streets of the Geula neighborhood of Jerusalem. A year has passed since mother died. All the other children have left the nest, and only Shulam and Akiva remain - quarreling, making up, and laughing. All will change when Akiva meets Elisheva. Shtisel is a magical glimpse into an often closed-off world, overflowing with surprisingly poignant, if restrained, romanticism.

We will be showing the first 3 episodes.