Rock City Festival 2013
Fri. Jul 26, 2013 at 5:00pm - Sat. Jul 27, 2013 at 11:45pm EDT
18+ after 10 pm or accomp. by adult
$10.00 - $75.00
18+ after 10 pm or accomp. by adult
Get Tickets
Details
Comments
Event Stats
$10.00 - $75.00
18+ after 10 pm or accomp. by adult
Event Description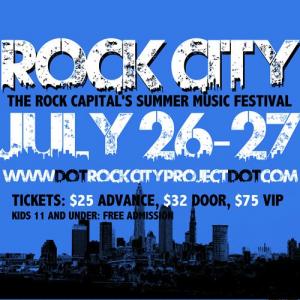 The weekend concert festival of the summer!
20 bands - 23 bazaar vendors - PLUS street performers - cabana bar - and TONS MORE!!
Confirmed to Appear in on 2013 Rock City Festival:
The Floorwalkers
Mojoflo
pOUT
MIDLIFE CHRYSLERS Ft. Michael Stanley
Welshly Arms
Silverlights
Misty Gonzales
Samantha Fitzpatrick Band
Switchblade Scarlett
The Chromes
Four Block Empire
Dan Miraldi
Dan Robertson Band
Slowback Gin
Jay Guerrero
Emily Keener
Lauren Lanzaretta & More!
All online ticket buyers will be entered to win a Michael Stanley autographed guitar from ClevelandRocks4Charity!
The Rock City Festival is a two-day, multi-stage entertainment festival celebrating Cleveland music and culture while raising awareness and proceeds for Easter Seals, who assists those affected by developmental and physical disabilities.
The festival will be held on Friday and Saturday, July 26-27 in Sheffield, Ohio.
More artists are being added daily.
ALSO NEW THIS YEAR:
BAZAAR AND VENDOR VILLAGE:
A – Lube BBQ Grill
B – Blastmasters Glass Products
C – Fifth-Third Bank
D – Rock City Cleveland Rock 'N Roll Emporium
E – KSD Studios
F – Joseph Toothman Art
G – Marci Bone Handmade Jewelry
H – America's Best Contacts and Eyeglasses
I – AfterTheGig.com
J – Lube Beer Tub
K – Official Merch / Easter Seals
L – Simply Betsy Handmade Body Products
M – Qwirky by Design
N – Fresh Brewed T's
O – Asha Robinson Fire Fly Jars
P – Wicked Fantasy Maille
Q – Cleveland Rocks 4 Charity
R – Unite This City
S – 87.7 Cleveland's Sound
T – Cleveland Whiskey
VIP SUITE WITH CELEBRITY BARTENDERS:
- Fox 8's Todd Meany
- Lorain County Commissioner Ted Kalo
- Elyria Councilman Marcus Madison
- Cleveland TV20's Leah Haslage
- Lorain County Sherriff Phil Stammitti
AND COMEDY SHOW at the VIP Suit
PLUS STREET PERFORMERS, arts and crafts bazaar, vendor village, and MUCH MORE!
ROCK CITY IS THE PARTY OF THE SUMMER!
Note about tickets loaded with the digital album download:
The download will be made available the week following Rock City Festival, and you'll be contacted by email with the download link.
OFFICIAL T-SHIRTS and TANK TOPS:
Click here!
View Everyone
Who's Going?

Tiffany S

Margaret K

Valerie A

John Pleichner S

Catherine A