RUSSENDISKO
Sat. Mar 1, 2014 at 9:00pm EST
Get Tickets
Details
Comments
Event Description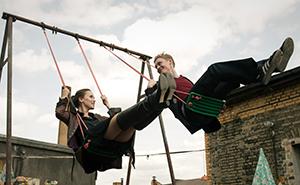 ADVANCED TICKET SALES CLOSED AT 8:00 AM. TICKETS MAY STILL BE AVAILABLE AT THE DOOR.
Dir. Oliver Ziegenbalg (96min, Germany, 2012)
In Russian and German with English Subtitles
Narrative
DC Premiere

Berlin 1989 – The Wall's just fallen, and Jewish citizens from the Soviet Union are now free to immigrate to Germany. Vladimir and his best pals Andrej and Mischa seize their chance to leave Moscow for Berlin, which in the early nineties is one of the most exciting places on the globe.

Vladimir and Andrejquickly get the permanent residence permits; Mischa, who is Russian but not Jewish, only gets a three month visa, while dreaming of starting a music career.Vladimiris more aimless, happy loafing about and helping out his friends. That is until he meets Olga, the most beautiful woman he's ever seen.