ÁRSTÍÐIR with The Anatomy of Frank & Guy Russo
Wed. Jul 8, 2015 at 8:00pm EDT
Price: $20.00
21 and Over
Get Tickets
Details
Comments
Event Stats
Price: $20.00
21 and Over
Event Description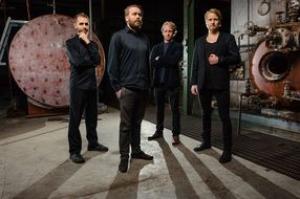 Tickets are $20 in advance $25 at the door. Doors open at 7:30 PM show starts at 8:00 PM
ÁRSTÍÐIR
Intricate songwriting from Iceland transports you to a world of restless, driven guitars, intimate piano, and mountainous string arrangements. But don't let the lush atmosphere deceive you. The delicate, acoustic vocals are so powerful that your heart will never break the same again.
HISTORY:
Árstíðir is a vocal-based acoustic band from Reykjavík, Iceland. The band has released two records praised by trendsetting music critics, had two number-one hits on Icelandic radio, made numerous TV appearances in Europe, and played sold out venues all over Iceland, Europe and Russia. Their music is a rare composition of the clear-cut and the complex, with diverse influences such as progressive rock, indie, classical music, country and Icelandic folk music. Louise Peterson writes in the Reykjavik Grapevine, "Shit. I mean, wow. Where to begin? Can mere words even do justice to the emotion Árstíðir evoke?"
Árstíðir was formed in Reykjavík in the summer of 2008. Originally a trio, Daníel, Gunnar, and Ragnar were distinguished players known from various bands and genres in the Reykjavík soundscape. In the summer of 2008, they began to "sing, string, and pick guitars" at the Kaffi Hljómalind, a popular hangout among Icelandic musicians like Sigur Rós. After only four weeks Árstíðir played the main stage of Reykjavík Culture Night.
That fall, Árstíðir was joined by Hallgrímur Jónas Jensson, renowned cellist and sought-after session player . Árstíðir also recorded their first single, Sunday Morning, which became a number-one hit on Icelandic National Radio.
In 2009 two more distinguished musicians joined Árstíðir: piano prodigy Jón Elísson and virtuoso violinist Karl. They released their eponymous debut album in June and embarked upon a lengthy tour of Iceland, playing numerous festivals. Another single became a #1 hit, Með Hallandi Höfði, a cover of CS&N's Helplessly Hoping, translated into Icelandic. Autumn brought more high-profile concerts, including the main stage of Iceland Airwaves, which earned them international media attention.
In 2010 Árstíðir's debut album was officially released in Sweden by Adore Music/Border, and acquired international distribution through Norwegian-based Phonofile-Artspages. In May and June Árstíðir toured Scandinavia and performed on Swedish National Radio and Sweden's largest commercial TV channel, TV4.
By the end of the summer an international management deal was signed with Maria Chelnokova. Árstíðir continued to tour Finland and Russia where they were met by sold out venues, local fan clubs, and high praise by both audience and media. Árstíðir's concert in Moscow was filmed and aired by O2TB, a TV channel that reaches 12 million viewers across Russia.
In 2012, Árstíðir released their 2nd album, Svefns og vöku skil (The Boundary of Sleep and Waking ). The band toured for five months across Germany, Central Europe, the Baltics, and Russia, with two acclaimed performances at the Colours of Ostrava Festival and a celebrated show at the International House of Music in Moscow, where the band was joined onstage by an eight piece string orchestra. Later that year, Árstíðir releasedTvíeind, an EP containing remixes of their songs by various international electronic artists.
In January 2013 Árstíðir headed back to Germany to receive the 21st Eiserner Eversteiner Award at the Malzhaus Concert Hall in Plauen. While touring that summer, the band found themselves in a German train station after a show. One by one, they began enjoying the acoustics of the 300-year-old building, and finally broke into an 11th-century Icelandic hymn. A few fans with cameras captured the spontaneous "encore" and put it online. To everyone's surprise, the video went viral, and currently has over 3.8 million hits.
Shortly after the tour, Jon and Hallgrímur parted ways with the band, leaving the original trio plus Karl on violin. Árstíðir set up shop in Toppstöðin,a decommissioned hydroelectric plant that has been converted into art studios. There they recorded their third album, Hvel (Hemispheres), after a 300%-funded Kickstarter campaign to raise capital for production. Hvel will be released in February, 2015.