Park Mark/ Is This My Home/ Reverie/ House/ Eugene
Fri. Mar 28, 2014 at 1:30pm PDT
Get Tickets
Details
Comments
Event Description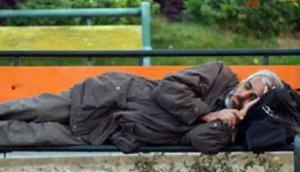 Park Mark
The eponymous Mark is a homeless crack addict who lives in the parks of Tehran by day, and steals from donation boxes (these stand on nearly every street corner) by night. Fate has pushed the once father, husband and successful resident of the United States to the margin of society and has turned him into an outcast. The film shows one night in Marks life, and provides insight into the secrets of this Iranian city. This is a powerful story of a man quite aware of his painful reality.
---
House
A unique and interesting animated short from director Ahmad Saleh screens for the first time in North America. For generations, a family lived in a spacious, beautiful and warm house. The generosity of the house had become part of their lives. Guests were always welcome to enjoy a pleasant stay. That all changed when one guest arrived with a different plan in mind. Part of our 2014 Festival spotlight on Germany and German animation.
---
Reverie
An inconspicuous citizen on the way to work is torn out of his daily routine when he witnesses a railway suicide. The event haunts him in his imagination and mixes rapidly with his own reality of social downfall in a cascade of surreal nightmares.
---
Eugene
Shot over the course of a few months, this moving documentary is a last-days confessional of a man dying alone in his tent in San Francisco's Presidio. Known by locals around the area as "Buddy," he and his cat, Trouble, became a common sight panhandling on Chestnut Street. His good cheer on the outside could only mask a painful and damning secret about his past.
---
Is This My Home?
Eileen Newman is a filmmaker. A self-described balloon twister. A college instructor. An educated woman with a Bachelor of Arts degree from Purdue University. And a Masters degree from Indiana. She's also telling her very personal story, with unwavering honesty, about living life as a homeless person.
---
House - 5 min. GERMANY (animation)
Reverie - 10 min. GERMANY (animation)
Eugene - 13 min. USA
Is This My Home? - 15 min. USA
Park Mark - 56 min. IRAN