James McBride and The Good Lord Bird Band
Fri. Jan 24, 2014 at 7:00pm EST
Get Tickets
Details
Comments
Event Description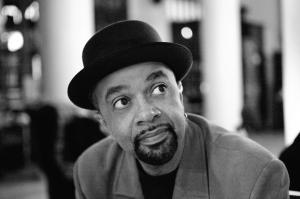 James McBride opens LIVE from the NYPL's Spring 2014 season with an exploration of his latest work The Good Lord Bird - winner of the 2013 National Book Award for fiction - through words and music. The evening will feature conversation with the author and musician, as well as performances by McBride and his quintet, whose mix of spirituals and jazz renditions of classic gospel songs are inspired by the abolitionist John Brown, a key figure in this novel. With Keith Robinson on guitar, Trevor Exter on bass, Show Tyme Brooks on drums, Adam Faulk on piano, McBride on saxophone and the whole band on vocals.
James McBride is an accomplished musician and author of the classic memoir The Color of Water, and the acclaimed novels Miracle at St. Anna, and Song Yet Sung. He has written for The Washington Post, People, The Boston Globe, Essence, Rolling Stone, and The New York Times. A graduate of New York City public schools and Oberlin College, he was awarded a master's in journalism from New York's Columbia University at the age of twenty-two. Aside from his literary endeavors, he has written songs for Anita Baker, Grover Washington, Jr., and the television character Barney, among others, and is the recipient of major awards for his work as a composer in musical theater. He has collaborated on films with the director Spike Lee, including Miracle at St. Anna and Red Hook Summer. McBride holds several honorary doctorates and is currently a Distinguished Writer in Residence at New York University. For more information, visit www.jamesmcbride.com.
Become a Friend of the Library to receive 40% off all LIVE from the NYPL tickets. Join Now.
LIVE from the NYPL is made possible with generous support from Celeste Bartos, Mahnaz Ispahani Bartos and Adam Bartos, and the Margaret and Herman Sokol Public Education Endowment Fund.
A note to our patrons: LIVE from the NYPL programs begin promptly at 7p.m. We recommend arriving twenty minutes before the scheduled start time to get to your seats. In order to minimize disturbances to other audience members, we are unable to provide late seating.
Join the Conversation
Follow the event with #LIVEfromtheNYPL