Josh Smith and Mark Lettieri Live at the Sanctuary
Fri. Nov 22, 2019 at 8:00pm CST
$10.00 - $125.00
All Ages
Get Tickets
Details
Comments
Event Stats
$10.00 - $125.00
All Ages
Event Description
The Guitar Sanctuary is proud to present a special evening of amazing music with Josh Smith and special guest Mark Lettieri on Friday November 22nd at 8pm (doors open at 7) at The Sanctuary Music & Events Center.
VIP Tables with seating for 4 directly in front of the stage are $125 per table (SEE Seating Chart Below).
Downstairs Seats (First come, First Serve) are $20.
General Admission (Standing Room Only on the upstairs balcony) Tickets are just $10.
We'll have food and bar service available from our friends at Rick's Chophouse.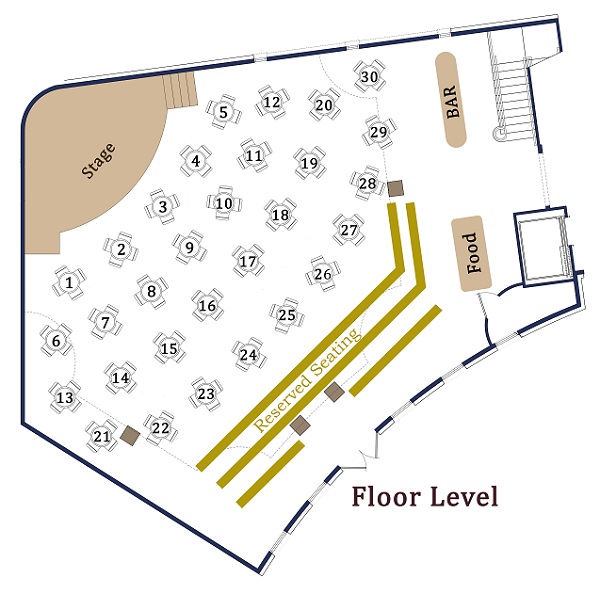 "As a player, writer, singer and producer, Josh Smith has it all." - Vintage Guitar Magazine August 2018

"Josh is one of my favorite musicians on the planet. His musical depth and guitar playing transcend the boundaries of the blues genre into a genre of his own. I am proud to always share a stage with him and even prouder to call him my friend." - Joe Bonamassa
Josh Smith was born October 7, 1979 in Middletown, Connecticut. Before he was 1, his family relocated to Florida, eventually settling in Pembroke Pines, a suburb of Fort Lauderdale. At age 3, he received his first guitar and at 6, he started taking guitar lessons.
Josh was exposed to the blues at an early age. He listened to a variety of artists, such as Muddy Waters, B.B. King, Albert King and T-Bone Walker. He also started going to concerts, including the Allman Brothers, Rolling Stones and Bruce Springsteen.
By 12, Josh was playing at established professional blues jams in South Florida, such as Musicians Exchange Café in Fort Lauderdale and Club M in Hollywood, FL.
Josh began sitting in with such greats as Jimmy Thackery, Tinsley Ellis, Kenny Neal, Lucky Peterson, Matt "Guitar" Murphy, Johnny "Clyde" Copeland, Double Trouble, Joanna Connor and Kim Simmonds, among others. Jimmy Thackery said of the 14-year-old, "Josh is three heartbreaks away from being a true blues guitar genius." At 14, Josh released his first CD, Born Under a Blue Sign, and at 15, he released his second CD, Woodsheddin.
Josh will be supporting his latest release, 2018's "Burn to Grow"
The Mark Lettieri Trio is an instrumental jazz-rock-fusion ensemble led by three-time GRAMMY Award-winning guitarist and composer, Mark Lettieri. Notable for being a longtime member of jazz super-group Snarky Puppy, Lettieri formed his trio as a live outlet for his guitar-based material that spans his three albums.
Lettieri's most recent release, Spark and Echo (2016, Ropeadope Records), is the latest continuation of Lettieri's evolution as an artist. Following 2011's Knows and 2013's Futurefun EP, the compositions on Spark and Echo display his eclectic melding of genres, tones, and virtuosic technique with cinematic charge. The album reached #2 on iTunes' Jazz Chart, and #11 on Billboard's Jazz Albums Chart, thanks to rapidly growing international recognition among fans of instrumental guitar music, coupled with his vibrant social media presence.
Serving as Spark and Echo's core rhythm section – and rounding out Lettieri's live trio - are two stalwarts of Dallas, Texas' jazz and groove scene: drummer Jason "JT" Thomas and bassist Wes Stephenson. Thomas, a fellow Snarky Puppy player, is a veteran session drummer whose résumé includes Marcus Miller, D'Angelo, and as a member of Roy Hargrove's legendary RH Factor band. Stephenson, a respected composer in his own right, is the leader of the fusion group the Funky Knuckles, signed to Snarky Puppy's GroundUP record label.
Mark Lettieri is a guitarist, composer, and producer based in Fort Worth, TX. Proficient in a multitude of styles, he records and performs in virtually every genre of popular music with both independent and major-label artists. He also composes and produces original instrumental music under his own name.

Born in the San Francisco Bay Area, Lettieri came to Texas via Texas Christian University (TCU), studying advertising and public relations, and competing in track and field. A passionate guitarist since middle school, he began his music career in the Dallas/Fort Worth Metroplex area upon graduating from TCU.

Playing in the vibrant Metroplex gospel and R&B scene led Lettieri to join jazz/world group Snarky Puppy in 2008, where he contributes as guitarist, as well as arranger and composer. The group has earned three GRAMMY Awards: Best R&B Performance ("Something" feat. Lalah Hathaway in 2014), and Best Contemporary Instrumental Album (Sylva in 2016, and Culcha Vulcha in 2017). Snarky Puppy tours constantly, having performed on every continent except Antarctica.

Aside from the Pups, Lettieri has spent time on the road with neo-soul icon Erykah Badu, gospel singer/actress Tamela Mann, and American Idol: Season 11 winner Phillip Phillips. He's also performed with a myriad of other artists, including Anthony Evans, Chrisette Michele, Myron Butler, N'dambi, Bilal, and even Pat Boone.

An in-demand session guitarist, recent work includes David Crosby, 50 Cent, Snoop Dogg, Eminem, Adam Levine, Kirk Franklin, Fred Hammond, Ledisi, Anthony Evans, Eric Roberson, Lecrae, Lupe Fiasco, Keyshia Cole, Xzibit, as well as numerous radio and television jingles. Lettieri is also a member of Team SKP, a production collective led by GRAMMY Award-winning producer Symbolyc One (Kanye West, Beyonce).

Since 2010, he has been a member of the house band for the Marcus & Joni Show, a Christian morning talk/variety show broadcast in 200 countries on the Daystar Television Network.

Lettieri has released three albums as a leader, Knows in 2011, Futurefun in 2013, and most recently, Spark and Echo in 2016 (Ropeadope Records). Spark and Echo climbed to #11 on Billboard's Jazz Albums Chart, and #2 on iTunes' Jazz Chart. Through tours with Snarky Puppy and social media network shares, these records have created a sizable buzz among fans of instrumental music worldwide. He performs frequently in a trio setting featuring a revolving rhythm section of world-class Dallas musicians, and has begun touring this music in the U.S., Europe, and Asia.

Join the Conversation
Follow the event with #LIVEMusicMcKinney
View Everyone
Who's Going?

Richard B

Bobby c

Stephen C

David W