Cirque Italia
Sat. Nov 21, 2015 at 8:30pm CST
Get Tickets
Details
Comments
Event Description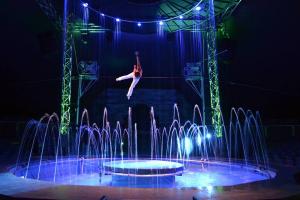 Cirque Italia has Climate controlled temperature under Tents. There is either A/c or Heat depending on Weather Conditions as to BEST ability for the tents are still OUTSIDE! Please still wear appropriate clothing for weather conditions.
IMPORTANT PURCHASING INFORMATION:
- Free Child Coupons can be picked up at local businesses.
- Children ages 12 and under are FREE. *Free kids coupons MUST BE presented at the box office for redemption upon arrival.
- Bundle packages- MUST HAVE ONE COUPON FOR EVERY CHILD also have kids coupons presented when entering.
*SEATING IS FIRST COME FIRST SERVE IN THE LEVEL YOU PURCHASE*
- Doors Open 1 hour prior to schedule show time
IF YOU ARE PURCHASING LEVEL 1 GOLD:
- Price level cannot be combined with our free kids coupon.
- Each child is required to have a ticket for for this location/price level.
Level 2 - BLUE AND RED ADULT TICKETS W/FREE KIDS COUPON: IF YOU RECEIVED A FREE KIDS COUPON PLEASE PURCHASE FROM THE BUNDLE TICKETS AS FOLLOWS:
- Adult Level 2 Blue w/Free Child Admission OR
- Adult Level 3 Red w/ Free Child Admission
(1 FREE Child Ticket will be issued with a ONE ADULT TICKET PURCHASE (either price level)
*For this type of purchase you will have to select the bundle and print out at the end of your purchase. Please purchase additional single child tickets if necessary.


How to obtain our Free Childs Coupon: Customers can visit on our Facebook page to print off our coupon/flyer or simply text 941-704-8572 and receive a picture of our coupon via text message!




PLEASE BRING PRINTED TICKETS AND FREE CHILD COUPONS THE DAY OF THE SHOW.


Questions or Concerns?
Please call or text - 941-704-8572 or 877-628-6872
EMAIL: [email protected] //


ABOUT US Cirque Italia is an Italian entertainment company that brings a performance of European style. It is truly described as a "vivid, dramatic, and moving experience under a customized traveling tent." Cirque Italia brings the appreciation of production and circus arts together to create a night to be remembered. Cirque Italia presents "Aquatic Spectacular." The name reflects an unique feature under the tent, for it is a custom designed water stage that travels from city to city. The stage holds 35,000 gallons of water that performers dazzle over while thrilling the audience in every move. With this "unique feature" under tent, guest will be surprised, for it's a show of its own! Cirque Italia brings talented artists from across the world under the big top that will really have you wanting more. They bring unique aerial acts, hand balancing, contortionists, hula hoops, and many more surprise performances that are breathtaking. They have created a show that is magical, modern, breathtaking, and most importantly – unforgettable!
NO REFUNDS OR RETURNS! ALL SALES FINAL. SERVICE FEES ARE NONREFUNDABLE.
Ticketing Policy: Patrons of all ages are welcome. Passes/tickets will be required for patrons age 2 and older. All sales are final. All acts advertised were available at time of publication, however acts and performance times are subject to change without notice. No refunds or exchanges. Passes/tickets lost or stolen will not be replaced. Management reserves the right, without the refund of any portion of the pass/ticket price, to refuse admission or to eject any person who fails to comply with the rules of the venue, local, state or federal law, or whose conduct is deemed illegal, disorderly, or offensive to management. Persons entering the venue are subject to search for contraband, unauthorized merchandise, alcohol, controlled substances, weapons, firearms, fireworks, video equipment, or recording devices, which are expressly forbidden. Any persons found attempting to enter the venue with forbidden item(s) will be refused access, or, at venue's discretion, allowed to give up the forbidden item(s). Confiscated items will be destroyed or given away at venue's discretion. Pass/Ticket user assumes all risks of personal injury incidental to the event, whether occurring prior to, during, or subsequent to the event. The resale or attempted resale of passes/tickets at a price higher than that appearing on the face of the pass/ticket is prohibited. Pass/ticket user consents to the Circus and its affiliates' use of his/her likeness incidental to any video display or news media coverage. No refunds on shows cancelled or postponed due to venue or "severe weather alerts." If cancellation or postponed show, customer will be notified of rescheduled showing to later showing.
Join the Conversation
Follow the event with #cirqueitalia