10 String Symphony with the Grifters
Sat. Oct 11, 2014 at 9:00pm EDT
Price: $15.00
21 and Over
Get Tickets
Details
Comments
Event Stats
Price: $15.00
21 and Over
Event Description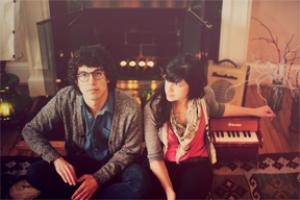 Tickets are $15 in advance $20 at the door.
The Nashville music scene is a famous home for world-class side musicians, as well as a plethora of legendary songwriters. Now it presents us with a duo that combines the best of both worlds, skilled instrumentalists with an incredible amount of soul and a love of great songs.
10 String Symphony is an arena for mesmerizing acoustic innovation. Although difficult to categorize, their music is instantly recognizable as a blend of two distinct but equally vivacious musical voices, encompassing "aggressive, almost discordant, celtic and dare I say punky string-chording experimentations" (The Bluegrass Situation). Vocally, Rachel Baiman and Christian Sedelmyer lock in seamlessly, and their vocal duets often take center stage despite the fact that they are self-described fiddle players.
Sedelmyer (Formerly of the Farewell Drifters) and Baiman (Formerly of Belfry Fellows) met in Nashville, and realized a mutual love for the range and depth of the 5-String fiddle. Their desire to see just how far a two-fiddle, two-vocals instrumentation could take them was the inspiration for the 10 String Symphony project. By the time their first full-length album was released in November 2012, their instrumentation had expanded to include the occasional clawhammer banjo and resonator mandolin, though still maintaining a stripped down, tightly woven and carefully arranged duo sound.
Decidedly contemporary in their musical approach, their debut album showcases Sedelmyer's virtuosic improvisation and creative harmonic soundscape ideas alongside Baiman's old-time rhythm and emotional melodic sensibilities. Only two years old as a band, the duo has already gained recognition and attention from some major festivals, landing slots at the ROMP festival in Owensboro, KY, the Strawberry Music Festival in Yosemite, CA, and a headlining slot at the 2014 Auckland Folk Festival in New Zealand.
"When each song ended, the two pressed tight into their microphones, savoring the last strains of the harmony – and even the bartenders seemed to be leaning forward breathlessly, awaiting someone to clap first. Their self titled recording aptly demonstrates the power of a spare, tightly-connected acoustic performance that is given room to evolve – for bluegrass fans, the lightning-fast harmonic runs on dueling fiddle is worth the price of admission alone. But it's the off the road experiments, especially from Christian's biting bow-strokes that will make future audiences take note."