A Night Of Comedy & Magic
Fri. Feb 8, 2013 at 8:00pm EST
$15.00 - $25.00
18 and Over
Get Tickets
Details
Comments
Event Stats
$15.00 - $25.00
18 and Over
Event Description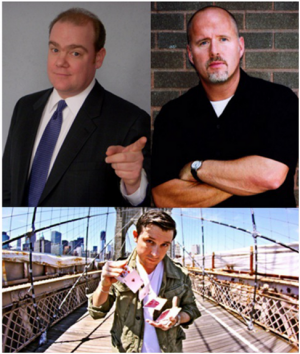 A Night Of Comedy & Magic in Our lavish 250 seat Vegas-Style showroom that features the best in food and drink.
David Michael:
David Michael started his comedy career at the age of twenty and his philosophy of comedy is simple – keep the jokes clean and funny. This has enabled him to appeal to audiences young and old, performing on radio, television, in the premier clubs and at colleges and corporate events across the country. A graduate from the University of Pittsburgh with a Bachelor of Arts degree in Communications, David entered the comedy stage and has been a performer and speaker for 23 years, working along with Jay Leno, Drew Carey, Dennis Miller and Howie Mandel. He is a regular at Funny Bone Comedy Clubs nationwide and the Improv Comedy Club, America's most prestigious chain. His book – "Secrets From The Greenroom" is available now.
Shaun Blackham:
Energetic observational comedy that pushes the limits on just about every subject. Shaun has a unique style and vigorous outlook on life and the world. His performances paint a picture in your mind that leaves you wanting more! Shaun has opened up for comedians Dave Attell, Mitch Hedberg, Tracy Morgan, amongst others. He has performed all over the east coast, made radio appearances, and performed for over 30 colleges, universities and corporate parties.
Lee Terbosic:
Performing both Stand-Up Comedy Magic and Close-Up sleight of hand, Lee is an entertainer you will not soon forget. Having both the ability to make you laugh and blow your mind in the process, his true talent is to entertain. In addition to the magic, comedy and incredible technical skills in his performances audiences are charmed with his hip personality and unique style. With numerous awards and thousands of performances across the country under his hat, Lee Terbosic is an exceptional performer that delivers. Blending comedy, illusion, music, sleight of hand, and even mind reading with the art of magic would be a daunting task for most. Lee excels at it all, mixing in what he would want to see if he were a paying customer and making his audience feel as though they are a part of the show, not just spectators.
Lee Terbosic-Close Up Experience from Talent Network on Vimeo.