Presenting H.P. Lovecraft's The Call of Cthulhu
Sat. Mar 15, 2014 7:00pm - 8:00pm EDT
Event Description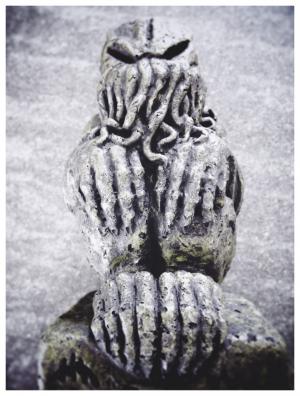 Join storyteller David Neilsen on a journey into madness as he brings to life H.P. Lovecraft's masterpiece, The Call of Cthulhu.
Enter a world of forbidden knowledge, dark cults, and ancient secrets leading to an apocalyptic encounter with a terrifying behemoth from beneath the sea and beyond the stars.
Sanity not included. Or guaranteed.
Tickets are $12 and benefit the Sleepy Hollow Cemetery Historic Fund.
Time: 7:00 pm to 8:00 pm. Doors open at 6:30 pm, unreserved seating.
Location: Sleepy Hollow Cemetery's Washington Irving Memorial Chapel, 540 North Broadway.
Refunds, exchanges: All sales are final. No exchanges or refunds unless tour/event is canceled.