Beer & Chocolate Extravaganza
Fri. Oct 16, 2015 6:00pm - 8:00pm EDT
Price: $40.00
21 and Over
Event Stats
Price: $40.00
21 and Over
Event Description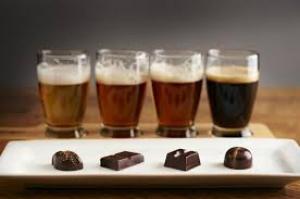 NEW FLAGSHIP EVENT! Only 125 tickets available!
Just in time for Sweetest Day, we're celebrating all things beer and chocolate. Get tickets for that special someone and don't stress the gift craze!
The beautiful Heinens Downtown Rotunda hosts this fabulous showcase of craft beers from top breweries and artisanal chocolates. Meet brewery and chocolatier reps and enjoy this interactive, walk-around event while discovering your favorite pairings.
Advance tickets are required at $40/person for 20 beer samples and chocolate samples. Proceeds benefit Malone Scholarship Program.
Sponsored by Founder's Brewing Company and Samuel Smith Brewery.

Beers



Founder's: Breakfast Stout, Porter, Rubaeus, KBS Stout


Bottlehouse: Lightbender Black IPA, Cherry Vanilla Bourbon Barrel Mead


Portside: Rusulka Stout, Barrel Aged Wheat Wine


Sierra Nevada: Bigfoot Barrel Aged Barleywine, Nahrwhal Imperial Stout


Goose Island: Fulton Street Blend Coffee Ale, The Muddy Imperial Stout


Anderson Valley: Barney Flats Oatmeal Stout, Bourbon Barrel Oatmeal


Brooklyn: Black Ops, Local 2


Victory: Red Thunder, Oak Aged Old Horizontal


Evil Twin: Imperial Biscotti Break, Saison with Honey


Anchor: Porter, Argonaut Anchor Barrel Ale


Market Garden: Midnight Vorlauf Coffee Porter, Forest City Brown Ale


Ommegang: Three Philosophers, Abby Ale


Rivertowne: Hala Kahiki, Headless Wylie


Thirsty Dog: Barrel Aged Wee Heavy, Barrel Aged Siberian Night


Rockmill: Tripel, Cask Aged Tripel


Bell's: Expedition Stout, 30th Anniversary Imperial Stout


Southern Tier: Pumking, Milk Stout


Oskar Blues: Ten Fity, G'Night Red


Stone: Cali Belgique


Willoughby: Nut Smasher


Chocolates


Heinen's: Two Brothers Chocolate Covered Pretzels


Bark Thins: Dark Chocolate Coconut with Almonds, Dark Chocolate Pretzel, Dark Chocolate Blueberry Quinoa


Equal Exchange: Panama Extra Dark, Dark Chocolate Caramel, Dark Chocolate Lemon Ginger


Sweet Designs: Dark Chocolate Pepita, Dark Chocolate Trail Mix, Dark Chocolate Quinoa Puffs


Chocolove: Extra Strong Dark Chocolate, Toffee and Almonds in Milk Chocolate, Cherries and Almonds in Dark Chocolate


Marich: Chocolate Sea Salt Cashews, Chocolate Espresso Beans, Chocolate Blueberries, Milk Chocolate Almonds