Revenge of the Return of Bad Movie/Good Beer
Fri. Sep 13, 2013 at 7:30pm EDT
$10.00 - $15.00
18 and Over
Get Tickets
Details
Comments
Event Stats
$10.00 - $15.00
18 and Over
Event Description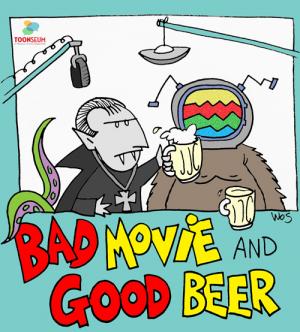 Revenge of the Return of Bad Movie/Good Beer at the ToonSeum

Pittsburgh, PA- At first screening of Bad Movie/Good Beer, the ToonSeum promised, er, threatened that the movie screened would be even worse! Now they intend to live down to that promise with a special Friday the 13th Horror-ible film and great beer!

From Ed Wood to Roger Corman, horror has long been a staple of truly bad film making. The ToonSeum has dredged up one of the worst and paired it with a good beer for your screening terror and drinking pleasure. Bad acting, bad writing, bad effects and so much more has to go wrong for a film to be considered truly awful. A bad film is like watching a train wreck, a building on fire, or Miley Cyrus on stage. There is something magical in watching something historically bad.

The Toonseum proudly presents Revenge of the Return of Bad Movie and Good Beer! Once again we dare not mention the name of the movie, because it's so bad... no one would show up. We can assure you it is a legendary awful film, has never won and oscar, or even a people's choice award! It is a film that put the Terror in Terrible!

Complimentary beer will be available during the show (you'll need it,) as well as other refreshments and popcorn. Must be 21 and show a valid I.D. to consume alcoholic beverages. Join us for a night of bad movies, good beer, and a bad film trivia contests with prizes!

Friday, September 13th, 2013 7:30pm-10:00pm

$10.00, includes admission to the ToonSeum

$15.00 includes admission to the ToonSeum and a bonus fun pack, sure to fill your friends with envy!
View Everyone
Who's Going?

Christina M

John Z

Molly K