Back to the Future Package
Sat. Oct 3, 2015 2:00pm - 8:00pm EDT
Event Description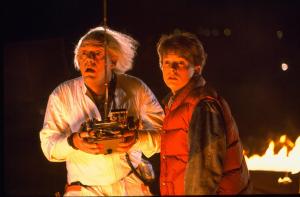 This ticket package features one ticket to each of the following events in conjunction with the What Lies Beneath: The Films of Robert Zemeckis film exhibition:
Oct 3rd: Back to the Future at 2pm
Oct 3rd: Back to the Future II at 5pm
Oct 3rd: Back to the Future III at 8pm
Your tickets can be picked up at the Film Desk on the evening of each performance. Members must present a valid membership card when they pick up their tickets.
That Robert Zemeckis has created some of the most popular films of the last 40 years is beyond dispute: Used Cars (1980),Romancing the Stone (1984), Back to the Future (1985), and Cast Away (2000) count among the classics of the American cinema, as certified by box office returns, critics' awards, as well as a pair of Oscars (Best Picture and Best Director) for Forrest Gump (1994). But Zemeckis is also a profoundly personal filmmaker, one of the last of that glorious breed of American studio directors who were instinctively able to combine popular appeal and individual expression, with no sense of compromise or condescension.
Beneath the cheerful, lively surfaces of his films lies a consistent focus on the isolation of the individual in modern society, a pervasive loneliness that is sometimes a choice (Contact), sometimes an accident (Cast Away), and sometimes a consequence of character. His sense of America as a playground full of bright, cheap, ultimately disappointing toys (Back to the Future), businessmen indistinguishable from confidence hucksters (Used Cars), and a land ruled not so much by opportunity and ambition but by blind luck and empty optimism (Forrest Gump) offers a darkly satirical vision in the guise of folk wisdom. Within American letters his closest relative is probably Mark Twain—and like Twain, Zemeckis has given us one of the great allegories of race relations in this country, the still underrated Who Framed Roger Rabbit, with its themes of segregation, suppression, and the projection of forbidden desires.