¡Amigos Live!
Sat. Feb 9, 2013 at 7:00pm EST
Event Description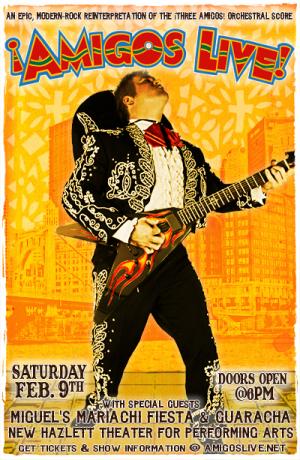 DOORS OPEN 6:00PM

Featuring opening acts MIGUEL'S MARIACHI FIESTA & Latin-Rock band GUARACHA

¡Amigos Live! is a fully independent, local tribute to the classic and often-missed ¡Three Amigos! score.

The not-for-profit rock concert features a reinterpretation of the beautiful ¡Three Amigos! film score as a massive, rock-based adaptation. The show features a 7-person rock band with incredible guest musicians and vocalists.

Pittsburgh favorites Miguel's Mariachi Fiesta, and Latin-rock act Guaracha will be featured as the opening acts.

The multimedia event will showcase clips from Orion Czarnecki's in-progress Amigo documentary, an independent film centered around his nationwide journey to revisit the passion, comedy and actors behind the 25-year-old film.

PRESS RELEASE:

The New Hazlett Theater for Performing Arts, in association with The Music Registry, announces a rock show like none other - ¡Amigos Live!

"¡Amigos Live! is a huge step in the journey that began in early 2012 -- To celebrate my favorite film and reinterpret the soundtrack in a way that people could click with," said local musician/independent filmmaker Orion Czarnecki.

Orion has been filming an independent documentary chronicling the 25-year-plus history of 80's cult-comedy ¡Three Amigos!, centered on a fan's journey to connect with those he admires. His journey has led to interviews with actors and crew from the film, and a nationwide trek – from LA to Tucson to New York and back to Pittsburgh - that has changed the life of this Pittsburgh native. "I've met incredible people and witnessed heartfelt stories along the way. From the biggest Director in Mexico to my heroes in LA. As a fan, you just have to think to yourself - 'How is this actually happening?'"

But it has. Apart from the film, Orion's journey has led to reinterpreting the ¡Three Amigos! score (created by legendary composers Elmer Bernstein and Randy Newman), which has become an epiphany unto itself.

"You know, no one has done this before. No one has taken an entire soundtrack and reinterpreted it as a huge rock album in tribute. Big guitars. Pounding drums. It's humbling, and we wanted to do it right. This is all about paying tribute to Elmer's work, which unfortunately was never celebrated at a mass level within his lifetime."

The end result is a tour-de-force of dynamic playing, in-your-face metal riffs, bluesy slide-guitar ballads, salsa-infused rock and soaring guitar-god leads. "I've been lucky to bring together some of the most talented musicians in the area. Our guys have done it all: Grammy nominations, an Emmy award, endless live performances… We can't wait to celebrate this tribute with those in attendance."


Previewing the Documentary

The show, which celebrates music unity at its finest, will also feature Miguel's Mariachi Fiesta (three Mariachi in full regalia) and Latin-dance band Guaracha during the special, one-time event. "These bands are the best of the best in Pittsburgh. If you aren't already a believer in Latin music, you will be after the show. We are lucky to celebrate this night with them, together as amigos."

The New Hazlett Theater - known for being the very first Carnegie Music Hall - served as the perfect outlet for the venue. "The Hazlett has been a tremendous supporter of local arts. We looked at other venues, but none could offer the amazing light show, wrap-around seating, and gigantic 30-foot project screen. We wanted the perfect venue to capture the magic of the night."

The goal of the show is raise awareness for the original score, and promote love for the original ¡Three Amigos! film. Czarnecki is putting the show on out-of-pocket, in hopes that he'll be able to share part of his journey with others.

"This documentary is more than a film about my love for ¡Three Amigos!, it has turned into a journey that anyone can look at and say - Here's something I love, I want to pay in tribute to it, even if right now I don't think I have it in me."

In addition to a night of music, ¡Amigos Live! will serve as the public debut of clips from Orion's Amigo Documentary. "I would invite anyone who has ever fought their own personal El Guapo to come out. We'll be showing clips of my journey between the songs, including my interviews with cast from the film" -- including the actual El Guapo. "Who, thankfully, won't be trying to kill us."

Rumors of a Talking Turtle are also present.