Historic South Side Home Tour
Sat. May 19, 2012 10:00am - 4:00pm EDT (-04:00)
$15.00 - $18.00
Children under 12 are not permitted to tour homes.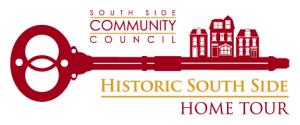 Mark your calendar for the
21st Annual Historic South Side Home Tour
Saturday, May 19th from 10am to 4pm
Your ticket is the key to unlocking some of the most unique doors in South Side.
13 of the South Side's most unique residences and buildings will be available for self-guided walking tours. From distinctly repurposed lofts and brand new condominiums to beautifully restored homes, each is a reflection of the owner's own style and tastes. These homes tell a story not just through their unique architectural features but also the personal collections of art, family heirlooms, memorabilia, and travel treasures housed within.
There is a limited number of tickets available for this event. Don't miss out, order your tickets early!
Advance Ticket Sales will close on Friday, May 18th at 2pm.
After this time tickets can be purchased at the check-in location the day of the event.
Check-in Location
UPMC Mercy South Side Outpatient Center
2000 Mary St.
Pittsburgh, Pennsylvania 15203
*Free Parking in the UPMC Employee Lot, 21st and Josephine Street*
Advance Tour Tickets: $14.99
Day of Tour Tickets: $18 (if available)
Children under 12 are not permitted to tour homes.
Event Sponsors
View Everyone
Who's Going?

Cara

Susan P S

Ellen D M

Martin L R

Debie