Big Phat Cooler Fetish
Fri. Oct 10, 2014 at 10:30pm - Sat. Oct 11, 2014 at 5:00am EDT
Get Tickets
Details
Comments
Event Description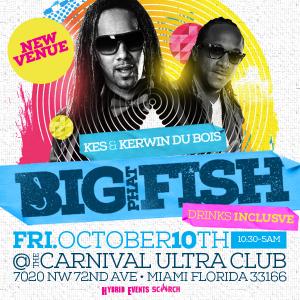 BIG PHAT COOLER FETISH SCORCH

Venue: Carnival Marine Park
Friday 10th Oct 2014 10:30pm - 05:00am
Hybrid Events + SCORCH
host
BIG PHAT COOLER FETISH
the premier Miami Carnival Cooler Fete...
Miami's Favorite Caribbean Party!
Venue: the Carnival Marine Park
Friday October 10th
10:30PM - 5AM
Come Dance the night away under the Miami Skyline!
Music Driven by: Private Ryan & Hoppy, Nuphoric, Bandit, Dr. Esan, Barrie Hype, Ryan Sayeed + Steelie Back
Pack yuh Cooler and bring what yuh drinkin!
Dress Code: Carnival Chic
For more info
DM @gethybrid
Talk @ 954-709-7242
Scorch + Hybrid Events Recommended
View Everyone
Who's Going?

Nikola C

Erica A

Salih A

Charlene A

Anquanette G